Thieves steal hawk from Leighton Park School in Reading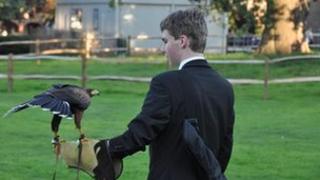 Pupils at a Reading Quaker school are mounting a search for their school's hawk after it was stolen from a teacher's aviary on Monday.
The Harris hawk, known as Maverick, is used to teach pupils at Leighton Park School about art, nature and physics.
Maverick, owned by Rachel and Robert Mayne, is flown on 60 acres of the independent Berkshire school's parkland.
Some of the older students have become proficient handlers of the birds.
'Added adventure'
Mrs Mayne said taking the birds to the independent school in Berkshire was part of an initiative "to build a more adventurous curriculum for pupils".
"Calculating the speed of a bird in flight at first-hand tends to stick in the memory," she said.
"After training a core team of pupils to handle them, my plan was to bring added adventure to my lessons with help from the hawks."
Mr and Mrs Mayne said they were "worried" about Maverick's welfare, as birds of prey need a specialised diet, proper handling and exercise.
The Harris hawk is said to "squawk a lot" until fully fed.
"If he is being kept in a garden shed, the neighbours will know all about it," said Mrs Mayne.
A cash reward is being offered for the safe recovery of the bird.