Mother of Cyrus Thatcher learns about the Maiwand Lion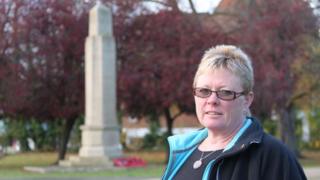 Helena Tym's 19-year-old rifleman son Cyrus Thatcher was killed in 2009 while serving in Afghanistan.
The Reading mother is marking Remembrance Day by researching soldiers from a 19th Century Berkshire regiment who also fell in Afghanistan - just 20 miles from where Rifleman Thatcher died.
A statue of a lion in Reading's Forbury Gardens commemorates the 66th Berkshire Regiment of Foot at the Battle of Maiwand in 1880, and now holds great weight for Ms Tym.
"I've lived in Reading for 25 years but I never knew its significance," she said.
"There are 329 names inscribed around the lion - men of the Berkshire Regiment who in 1880, like Cyrus, were killed in a war in Afghanistan."
She added: "I know what it is to grieve for a lost soldier, and so did the people of Reading in 1880.
"They wanted us to remember our soldiers. They built this memorial so that we would do so."
'Incredibly similar'
The Battle of Maiwand, named after a village in Afghanistan, took place on 27 July 1880 during the Second Afghan War.
It was part of a British campaign to stop Russian influence in Afghanistan which was thought to threaten British control of India.
The Berkshire Regiment suffered hundreds of dead and wounded (reports of the number vary) as 2,500 British and Indian troops clashed with up to 25,000 Afghans.
Imperial War Museum principle historian Nigel Steel said the experience of soldiers in Afghanistan today was "incredibly similar" to those of the soldiers in 1880, despite the obvious advancement in warfare technology.
He said: "The technology they take out there isn't going to give them that much of an advantage because at the end of the day they have to come down and fight on the level of the local Afghan people."
Ms Tym said: "A couple of times Cyrus managed to call us from the front line, and one of the things he was amazed at was that the Taliban were using very small unsophisticated devices and giving the army a terrible problem with it because they couldn't find them."
Rifleman Thatcher was killed by an improvised explosive device on 2 June 2009.
Ms Tym learnt that none of the soldiers killed at Maiwand were repatriated.
Martin McIntyre, of the Wardrobe Museum in Salisbury, Wiltshire, a regimental museum for the Rifles, said there were no war graves for the 66th Berkshire Regiment.
"Unfortunately all the men who were killed are still in Maiwand somewhere," he said.
"The regiment left the field of battle, there was nobody bringing anybody back because they were fighting for their own existence."
Rifleman Thatcher was repatriated to RAF Lyneham and is buried in a war grave in Caversham, Reading.
"As a mother it was really important that his body came back and that we have something tangible to look at," said Ms Tym.
She added: "I don't think I could bear the thought of Cyrus's body being left in Afghanistan with nobody knowing where he was or where he had died.
"All Cyrus's personal effects came back, so we have those.
"These people had nothing but their memories."
You can hear the full documentary, called The Lion Of Afghanistan, on BBC Radio Berkshire on Sunday at 11:00 GMT.