Church council closes St Patrick's Church in Charvil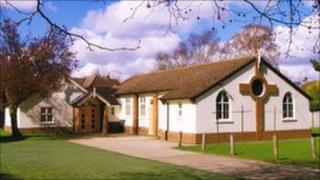 Church authorities have voted to close a church in a Berkshire village despite "distress" of parishioners.
The parochial church council of Sonning and Charvil voted, by 18 to 3, to close St Patrick's in Charvil because of poor attendance at services.
However, the building will not be sold for housing, as originally planned but used by the community.
The likes of pre-school groups and the Brownies will use it, with the hope it will eventually become self-funding.
The Parish of Sonning said in a statement that numbers of worshippers had "always been a concern" at the church, which opened in 1952.
'Cause of sadness'
The ecclesiastical parish has now decided to revert back to having one church to serve its needs.
The Friends of St Patrick's group said it was "deeply distressing" to be losing the place of worship, but described the fact it would not be sold for housing as "good news".
The vicar of Charvil and Sonning, the Reverend Jamie Taylor said the decision to stop holding services at St Patrick's was "not taken lightly".
He said mass car ownership meant that people preferred to come to the Parish church in Sonning than go to St Patrick's.
"This is a cause of sadness to the faithful few who have worshipped there for years, but as we look to the future, the Church Council has had to accept that it is not sensible to try and sustain two places of worship in a parish that is as geographically small as ours."