Pot of gold found in Slough gully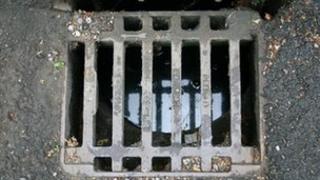 A Berkshire road cleaning crew have discovered a pot of gold jewellery in a drain in Slough.
The find was discovered at the edge of Cranbourne Road off Cippenham Lane on Monday and later handed to police.
John Knight, who was cleaning the gully, said: "We lifted the lid and right inside was a plastic pot with gold jewellery spilling out of it."
The stash included necklaces, watches, rings and earrings. It is thought to have been hidden by a thief.
Mr Knight, who works for Slough Borough Council, added: "And there was more in the bottom of the gully.
"I am no expert, some of it looked like it contained precious stones as well.
"It was a bit of a surprise. I've been on the tanker about eight or nine years and this is the first time I have found gold jewellery."
Mr Knight believed a thief might have hidden the goods there and had planned to come back later.
The council employs the specialist crew to clean out the leaves and dirt in the gullies throughout the year.