Sunningdale murder: Men 'bought hammers for murder'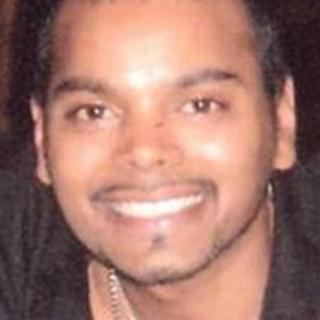 Four men murdered a colleague in Berkshire after shopping for hammers and a shovel, a court has been told.
Robert Johnston, 57, his sons Tom, 25, and Ben, 27, and his friend Shaun Matthews, 55, are alleged to have assaulted Shaleem Amar with hammers.
The attacks by the Cambridgeshire men on the father-of-three from Sunningdale caused "severe head injuries", Reading Crown Court heard.
All four men have pleaded not guilty to murdering Shaleem Amar last November.
The court heard the blood of the 33-year-old was found over the clothes of the defendants.
'Tricky situation'
The murder is alleged to have taken place in a house called Tresanton in Sunningdale, near Ascot, which had been rented by Mr Amar under the name of Trevedi two months previously.
The jury was shown CCTV footage from Ridgeons Builders' Merchants in Pampisford, Cambridgeshire, from the day before Mr Amar died and the morning of the day of his death.
Footage showed the men buying items including a wheelbarrow, a shovel, two 2.5lb lump hammers and a third hammer with a fibre glass handle.
The court also heard Mr Amar's wife arrived at the property at 12:45 GMT on 17 November 2010, having dropped off her daughter at nursery, and was let in by Robert Johnston.
Prosecutor Noel Lucas QC said: "Her husband had been repeatedly attacked, each of those three hammers had been used to strike at his wet blood on multiple occasions, and a massive clean-up operation had taken place in the kitchen of Tresanton."
Mr Lucas said there had been "a plan for what was to take place" and preparations made for how the body would be disposed.
The jury heard there was no clear motive for murder.
However, the men had asked Mr Amar for money shortly before his death and Mr Amar admitted to his wife that he was in a "tricky situation", Mr Lucas said.
Robert Johnston and his two sons, all from Pampisford, Cambridgeshire, and Mr Matthews, from Whittlesford, Cambridgeshire, are jointly charged with murder, which they all deny.
The trial is expected to run until mid-December.