Oxford's 42ft wicker man burned in front of 20,000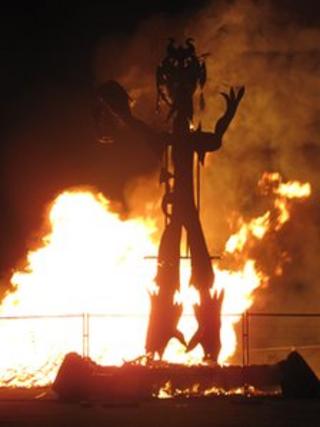 A giant wicker man sculpture has been burned at a bonfire night celebration in front of more than 20,000 people in Oxford.
The 42ft (13m) willow sculpture was set alight at South Parks in Headington.
About 1,300 people from across Oxfordshire helped make the wicker man to raise awareness for cancer charity, Maggie's Centres.
Organisers said it had taken a year to create and its head had toured all of the county's major towns.
'Burned really well'
A wicker man is a large statue of a human, usually made from woven willow.
Janette Barton, part of the team behind the wicker man, said the charity event organised by Oxford Round Table had been "really well attended, the figures exceeded last year".
"The wicker man burned really well," she added.
The head of the wicker man went on tour around Oxfordshire between June and November.
Dan Barton, also of the project, said: "The head was craned up on to Hangman's Hill in Ledwell, it stayed at Oxford Castle for three weeks and it also visited Blenheim Palace."
Eight-year-old Thomas Lydford-Brace, from Cumnor in Oxford, designed the Medusa-style sculpture, which had another sculpture within it.
The second sculpture, revealed as the wicker man was burned, was designed by Stanley Burke, 10, from Longcot and Fernham Church of England School in Faringdon.