Slough road safety campaign to reduce cyclist injuries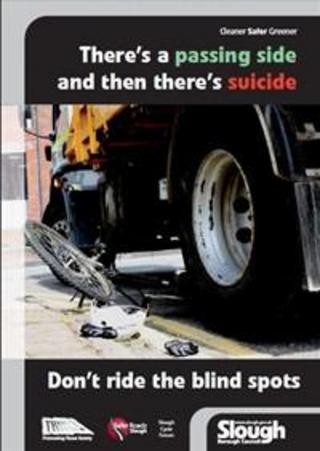 More than 260 cyclists have been injured on Slough's roads over the past five years, an average of one a week, statistics have revealed.
The 261 casualties in the borough include one fatality, 34 serious injuries and 226 slight injuries.
Slough Borough Council is distributing posters, featuring a collision scene, around the borough to remind drivers to check their blind spot.
The council said the intention was to "ultimately reduce the casualties".
'Potentially suicidal'
Blind spots are the areas around the vehicle that cannot be seen by the driver in any of the rear view mirrors.
The posters show a bicycle crushed underneath a lorry with the message: "There is a passing side and then there's suicide. Don't ride the blind spots."
Keith Beasley, road safety officer for the borough, said: "All too often we see cyclists overtaking vehicles on the inside and it really can be a dangerous and potentially suicidal manoeuvre.
"We're not saying such collisions are always the fault of cyclists, but our intention is to bring the issue of blind spots to the attention of cyclists and drivers and ultimately reduce the casualties on our roads."