Sir Douglas Bader's log book from crash is auctioned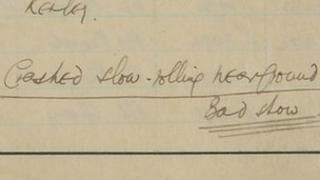 The log book in which legendary pilot Sir Douglas Bader recorded the crash which led to the loss of his legs is for sale along with other memorabilia.
Following his 1931 crash at Berkshire's Woodley Airfield, he wrote: "Crashed slow rolling near ground. Bad show".
The crash nearly killed him, but he learned to walk again in six months using artificial legs.
He flew during the Battle of Britain, and was taken prisoner after crashing his Spitfire in Nazi-occupied France.
Bader's log book, which also details his difficulties in first learning to fly as a pilot when he joined the RAF aged 18, is expected to fetch between £20,000 and £30,000 at auction.
Also up for auction are transcripts of "Leg Operation".
After the Germans took Bader prisoner, they asked Britain for a new tin leg for the pilot.
'Incredibly exciting'
It was delivered by parachute into France, the aircraft having been guaranteed safe conduct by the Nazis, in what became known as Leg Operation.
Chris Albury, from Dominic Winter Book Auctions, said: "We have several items by Bader, all incredibly exciting.
"The log book itself is such an iconic item relating to one of the most famous people of the 20th Century, we're pretty sure a lot of people will want it. "
Sir Douglas's story was told in the 1956 film Reach for the Sky.
After the war he led campaigns for the disabled, for which he was knighted in 1976
All Bader items will be auctioned in Gloucestershire on 16 November.