Ray Mill Island in the River Thames to close for five weeks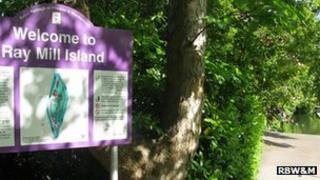 An island in the River Thames in Berkshire is to close to the public for five weeks while improvements are carried out.
Ray Mill Island near Maidenhead is to undergo £69,000 of work, beginning on Monday 31 October.
The 16,442 sq m (1.6 ha) island is home to a park.
The improvements include maintenance to the island's access bridge, while a new fountain and children's play area will also be installed.
Windsor and Maidenhead borough councillor Simon Dudley said: "As well as carrying out essential maintenance work - in particular replacing the worn footbridge surface - we are further enhancing the appeal to visitors of all ages."