Wellington College head: 'Schools becoming exam factories'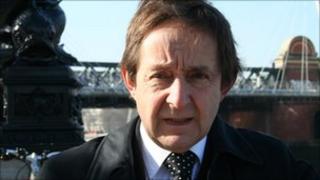 The head of a private school in Berkshire has said the government's education targets are turning schools into "exam factories".
Dr Anthony Seldon, master of Wellington College, said measuring a school based on grades was "ultimately juvenile".
His comments came after exams regulator Ofqual said A-level students faced more tests than students overseas.
The Department for Education (DfE) said it "didn't disagree" with Mr Seldon's comments.
'Dehumanising'
Mr Seldon, who has written biographies on former prime ministers Gordon Brown, Tony Blair and John Major, said the reliance on end results at schools was "dehumanising".
He said: "We have to find better ways to do the most important process that can happen, a once-in-a-lifetime chance for young people.
"The more deprived the social background of the child, the more important school becomes as that chance to develop all the different intelligences and aptitudes that lie within a child.
"For too long we've had this brutally frank and ineffective way of measuring schools, and measuring teachers, and what it has done is it's rendered schools ultimately into exam factories, a kind of sausage process machine whereby all that seems to matter is this end result.
"This is dehumanising and it's not good enough."
A DfE spokesman said the department had been aware of Mr Seldon's views for years and was "trying to do something about it".
He added: "Ministers have been clear that they want to end the culture of constant exams and re-sits which prevents pupils getting in-depth subject knowledge, fails to prepare them for further study and stops them getting a broad education."