Heatherwood Hospital rally and march attracts about 300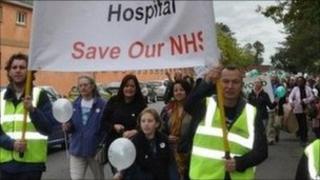 Hundreds of campaigners have rallied in Berkshire in support of Heatherwood Hospital, which is threatened with closure.
Hospital staff gathered in Ascot on Saturday to hear speakers including Slough Labour MP Fiona MacTaggart.
A NHS Trust letter sent to staff told them "uniforms should not be openly worn" and they should make it clear their opinions were "personal".
Protester Marc Green said the letter was "a clear attempt to deter staff".
Mr Green, of Windsor and Slough against the Cuts, said: "About 300 people turned up and we made a really good impression on Ascot.
"We had a lot of support from people in their cars and we went past the hospital and had a lot of support from the staff too so it was a fantastic success."
The event kicked off with a rally in the Ascot Racecourse car park before campaigners marched up the High Street to the hospital and returned for a closing rally.
Heatherwood and Wexham Park Hospitals NHS Foundation Trust recently announced three options available to Heatherwood as part of cost-saving measures. Two of the three options would result in the hospital's closure.
In a letter from the trust to staff dated 4 October, chief finance officer Paul Robinson wrote: "I understand that some staff may want to attend the rally and wanted to remind you that whilst you may have your own opinions regarding the suggested options, these must be portrayed as personal and not in a way that could be interpreted as the view of the trust.
"Staff are also reminded that in line with trust policy, uniforms should not be openly worn off site unless on official trust business."
The event was organised by Windsor and Slough against the Cuts, Bracknell's Defend our Community Services and the Ascot Community Action Group For Heatherwood Hospital.