Red kites soar in population around urban Reading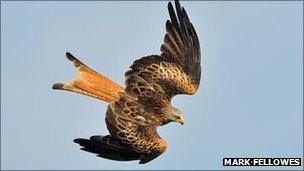 The successful reintroduction of red kites in urban areas of Berkshire has prompted academics to find out if people are feeding them.
According to Reading University, large numbers of kites have been seen over urban areas, particularly in Reading.
Wildlife experts fear that if people feed the birds, their populations may increase until they become a nuisance.
In June, Oxfordshire students reported red kites were taking their food.
One student at Icknield Community College in Watlington said he was scratched by a bird as it swooped down and tried to grab his lunch.
Cathy Rose, from the Chilterns Conservation Board, said she believed people were feeding kites in their gardens.
"Sometimes you see 10 to 20 kites hovering over one garden," she said.
"The kites become accustomed to coming close to people and while for some people that's a great experience, for others it's terrifying."
Prior to the 1980s, red kites had been absent from England and Scotland for almost a century.
Although common in Shakespeare's time, the birds were regularly shot and poisoned from the 16th to the 19th Century.
A reintroduction of the red kite in 1989 proved so successful they are now a common sight in Berkshire.
PhD student Melanie Orros, from the University of Reading's School of Biological Sciences, will conduct the UK's first large-scale questionnaire of people who feed red kites in gardens.
She said: "The red kite is primarily a carrion feeder so will take various types of meat.
"Feeding kites in private gardens has become increasingly popular in some areas close to reintroduction sites, however hardly any research has been carried out into garden feeding of kites so little is known on the quantities, types of food and how often people feed them and why."
Red kite reintroductions originally took place at two sites, one near Reading, in the Chilterns, and the other in Northern Scotland.
Several more followed across the UK, including sites near Gateshead and Leeds, until 2010.
In 2008 there were believed to be 400 to 500 breeding pairs of red kites in the Chilterns area.
Ms Orros said at present, Reading was probably the only large urban area in the UK where large numbers of kites were currently seen as other reintroductions close to towns and cities took place relatively recently.
However, she predicted red kites would soon populate areas such as Oxford and cities close to Gateshead.
Related Internet Links
The BBC is not responsible for the content of external sites.