Windsor fire station 24-hour cover proposal agreed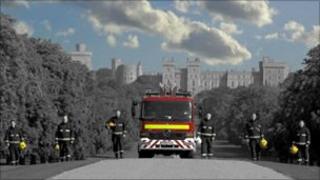 Windsor residents are set to keep their 24-hour fire cover after a five-year battle to save the Berkshire town's station from night-time closure.
At a council meeting on Wednesday the Fire Authority agreed a proposal for round-the-clock cover using a smaller fire engine and fewer crew.
But the Fire Brigades Union said the plan would "endanger public safety".
The council said: "This is a compromise solution which gives residents the 24/7 fire cover they deserve."
This proposal will go to public consultation on Monday for three months and if approved the 24-hour service will start in April 2012.
Three firefighters
The Royal Berkshire Fire Authority had proposed shutting the station from 20:00 to 08:00 because it only averaged three calls a week at night.
Assistant chief fire officer Paul Southern said the smaller engine would "still have good capabilities to attend smaller fires".
The Berkshire Fire Brigades Union (BFBU) led the campaign to keep the station open for 24 hours-a-day and said having a smaller appliance there was a "bad idea".
BFBU chairman Maurice Whyte said: "When you attend a fire you need appropriate resources. An undersized fire engine with a minimum crew is not an appropriate resource."
The station will close at night from Saturday until the proposal is approved. It will then also move to a smaller building in Windsor to save costs.