Mum-to-be 'not told' of Heatherwood birth unit closure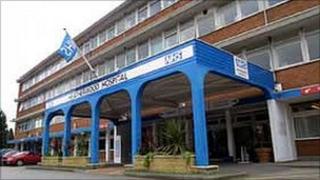 A pregnant woman whose due date was Tuesday says she was not told that her chosen maternity unit had closed.
Heatherwood Hospital, in Berkshire, temporarily shut its Ascot Birthing Centre on Tuesday.
Natalia Wase, 35, a Berkshire teacher, said she had only found out that it had closed by chance via an email from a parenting charity.
A hospital spokeswoman said: "Where contact details allow, we have notified all mothers-to-be by phone."
Mrs Wase said she had cried and that it had been a shock to find out by chance from a group email from parents charity National Childbirth Trust (NCT) that the birthing centre had closed.
"If I wasn't a member of NCT I would've gone to Heatherwood and that would've been awful," she said.
'Calling alphabetically'
She rang Heatherwood and said a member of staff had told her they had not got around to calling her yet because "there are 600 mums-to-be registered to give birth there".
Mrs Wase, from Winkfield Row, near Bracknell, said she thought Heatherwood staff were calling prospective mothers alphabetically rather than by their due date, but the hospital said this was not the case.
A spokeswoman for the hospital's NHS trust said: "Midwifery staff at Heatherwood Hospital have been contacting all mothers-to-be so that they are informed of the temporary closure as quickly as possible."
She added: "Mothers were contacted according to their due date."
Heatherwood and Wexham Park Hospitals NHS Foundation Trust has the highest rate of midwife vacancies, a freedom of information request by the BBC programme Panorama revealed in July.
There are proposals to close Heatherwood and on 21 September the chief executive of its NHS trust, Julie Burgess, resigned.