Broadmoor patient Albert Haines in public appeal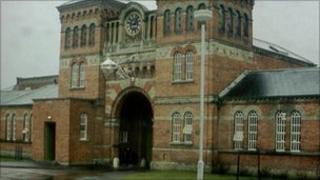 A man held in secure hospitals for 25 years has become the first psychiatric patient to have an appeal against his detention heard in public.
Albert Haines, 52, argued his case should be considered at an open hearing because he wanted to expose alleged failings in the system.
He has been detained since his 1986 conviction for attempted wounding.
Mr Haines's lawyers argued at a London tribunal that he should be released from Broadmoor, under conditions.
The tribunal offered a rare glimpse into the usually hidden world of the famous high-security psychiatric institution.
'Public risk'
Members of the press were given full access to the proceedings, and were able to report on the sensitive mental health issues being discussed for the first time.
The tribunal panel was told Mr Haines did not think there was anything wrong with him and believed his discharge would be "in the moral public interest".
However, Dr Jose Romero-Urcelay, Mr Haines's responsible clinician, argued the patient remained a risk to the public and to himself.
He told the panel Mr Haines had suffered deprivation and neglect during childhood and had later reported being abused and using cannabis, cocaine and amphetamines.
The patient now believed he was being persecuted and had sought the public hearing in part because he feared mental health hearings were not impartial, the doctor said.
'Abusive and threatening'
Dr Romero-Urcelay said he believed Mr Haines suffered from paranoid psychosis, adding that Mr Haines had a "constant preoccupation with a conspiracy he feels he is the victim of".
He also described the patient as "abusive and threatening" towards staff at Broadmoor and argued that "the evidence is that Mr Haines would not be able to cope with a normal environment".
However, another medic reported Mr Haines showed no current psychotic symptoms, the tribunal heard.
An estimated 100,000 mental health tribunals have been held in the past seven years, but out of these there were only 10 applications for the hearing to be held in public.
Only one previous application for an open session was granted and this was later withdrawn, meaning Mr Haines's case is a legal first.
West London Mental Health NHS Trust, which runs Broadmoor, declined to comment ahead of the hearing.
Broadmoor high-security psychiatric hospital in Crowthorne, Berkshire, is home to some of Britain's most dangerous criminals, including Yorkshire Ripper Peter Sutcliffe and serial killer Robert Napper.