Havant couple living in a shed told to move out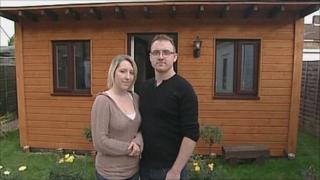 A Hampshire couple living in a garden shed have been told to move out.
Victoria Campbell, 20, came up with the idea of staying with her boyfriend in her parents' shed in Havant to save money for a deposit on a house.
After an anonymous complaint to Havant Borough Council, the couple submitted a planning application to live in the property but it was refused.
Head of planning Julia Potter said the shed was "not suitable as primary living accommodation".
Miss Campbell, an NHS care worker, said: "I was really upset, I just want to save and move out, I don't want to be here forever."
'Not a nuisance'
The 15ft by 15ft shed has no running water - the couple use the family bathroom - but benefits from double glazing and an oil radiator.
The couple eat their meals in the main house and sleep on a sofa bed in the shed.
Miss Campbell added that renting accommodation would slow down the process of saving and paying off debts.
Miss Campbell added: "The shed was going to be there anyway. We only sleep in it, we don't make a noise and we're not a nuisance."
Her partner Bill Warden, 26, who works as a carer in the private sector, said the couple did not know they needed planning permission to live in the shed when they moved in last September.
He added the windows did not overlook anyone's gardens and the immediate neighbours did not have a problem with them living there.
Ms Potter said: "The council wants to encourage the supply of good quality affordable housing in the borough.
"We don't want people living in a garden shed. It sets a potentially dangerous precedent."
The couple have been granted nine months to find alternative accommodation.