Ufton Nervet crash father's anger over fresh incident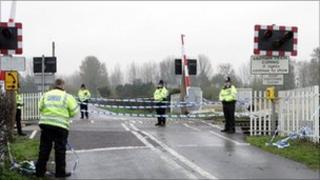 A man whose daughter died in a rail crash in 2004 has said it is "mind-blowingly incompetent" that another crash nearly happened at the same site.
An investigation is under way into a near collision between a car and a train at the Ufton crossing after the barriers were left up on 4 September.
The road traffic warning lights were not showing, although a 60mph (100 km/h) train was approaching.
Seven people died in the accident at the same crossing in November 2004.
The Ufton crossing is located between Theale and Aldermaston stations in Berkshire.
Peter Webster's daughter, Emily, was one of those who died in the collision seven years ago.
'Potential for danger'
He said in some countries the type of barrier in place at Ufton Nervet were banned because they are considered "unsafe".
"There are always people who will panic or gamble they can get through the barrier and away before the train comes," he said.
"The potential for danger is so great."
The union of Rail, Maritime and Transport workers (RMT) said level crossings on high speed train lines should be banned and replaced with bridges and underpasses.
RMT spokesman Alex Gordon said: "We warned in 2004, when that terrible accident took seven lives at Ufton Nervet crossing, they would be foolish not to expect another accident to happen again at other level crossings or the same level crossing.
"In France you will not find a high speed rail line with a level crossing on it."
Network Rail and First Great Western both said they were working with the Rail Accident Investigation Branch (RAIB), which is carrying out an investigation into the circumstances surrounding the latest incident.