Sir Ernest Shackleton's 104-year-old biscuit to be sold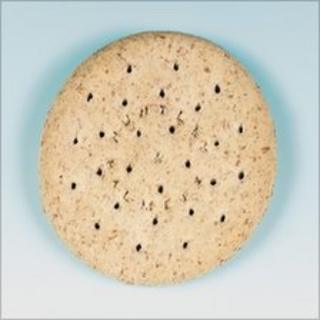 A 104-year-old biscuit taken by Sir Ernest Shackleton on his Antarctic expedition in 1907 could fetch up to £1,500 at auction, experts have said.
The biscuit, one of those used to sustain men on Shackleton's Nimrod expedition, was made by Reading-based company Huntley & Palmers.
The company had already provided energy biscuits to Captain Scott for his Discovery expedition in 1901.
It will be auctioned by Christie's on 29 September.
Shackleton had ordered the protein biscuits for his Antarctic journey.
"The people in the team didn't like the biscuits, but it just about kept them going," said Nick Lambourn, director of exploration and travel at Christie's.
Heroic Age
"Explorers at that time didn't have the information we have nowadays about vitamins, so they were very experimental in their attempts to produce the right energy-giving substances."
The biscuit is perfectly preserved, having been left at the hut at Cape Royds in the Antarctic where Shackleton was based during his Nimrod expedition.
"The Antarctic environment is incredibly dry so it conserves all sorts of things," said Mr Lambourn.
The highest price ever paid for a biscuit at auction was £7,637 in 2001, when Christie's sold some biscuit crumbs from Shackleton's famous Endurance expedition.
According to Mr Lambourn, Antarctic relics from the Heroic Age appeal to private individuals, institutions and museums.
Included in Reading Museum's collection is a Huntley & Palmers biscuit which was taken on Captain Scott's ill-fated 1911 expedition.
According to museum curator Brendan Carr, as well as reaching the South and North Pole, the biscuits reached all areas of the globe.
He said: "At the turn of the century, when the first explorers reached Tibet they were met by local people and given Huntley & Palmers biscuits.
"There was also an informal horse and cart trade into the remote corners of the world, so people were eating Huntley & Palmers before they ever saw a western face."