Future options for Heatherwood Hospital revealed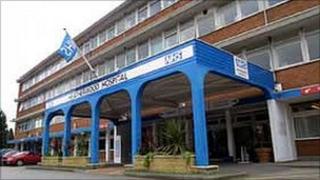 Heatherwood Hospital could close under two out of three proposals revealed by the chief executive of its trust.
Julie Burgess said three options were being considered for future health provision in east Berkshire.
One proposal is for all services to come from Wexham Hospital. The second proposal is for services to be shared with Wexham, Bracknell and Chalfont.
It is also proposed Wexham could remain as an acute hospital with Heatherwood providing elective procedures.
'Half baked'
The first two options would involve closing Heatherwood Hospital, which is located in Ascot.
The trust and the PCT are also looking at other options, and have not finalised their plans.
Heatherwood and Wexham Park Hospitals NHS Foundation Trust will hold a consultation on the plans in October or November, it was also revealed at a public meeting.
Members of Royal Borough of Windsor and Maidenhead Conservative Group criticised the plans to sell off the hospital, which they said were discussed at a meeting they attended on Monday with NHS bosses.
The Conservative councillors say the trust plans to sell off the site where Heatherwood Hospital currently stands to developers.
Councillor Simon Dudley said: "The trust's plans are ill considered and half baked and driven by financial considerations rather than residents' needs."
However, a spokesman for the trust said: "This is very much a work in progress - we are genuinely open-minded and don't have any fixed views."
However, Dr Asif Ali from the Slough GP Clinical Commissioning Group, who also attended the meeting, said the location of current services was due to "historical factors" rather than "clinical and population needs".
"In addition, hospital space is not well used - more than half of the Upton site in Slough is currently empty, for example - and that means we are not making best use of taxpayers' money," he said.
Dr John Wiggins, medical director at Heatherwood and Wexham Park Hospitals NHS Foundation Trust, was one of the senior doctors at the meeting on Monday.
He said: "If we are going to continue to make improvements within the current funding we have to make changes."
The Heatherwood and Wexham Park NHS Foundation Trust needed an £18m loan from the government last year.