Olympics 2012: Park and ride schemes for Dorney Lake events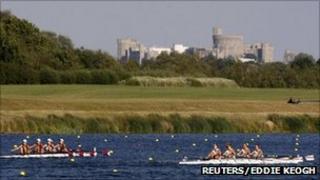 Four temporary park and ride sites are being set up in Berkshire to get 30,000 fans to Olympic 2012 rowing events.
Braywick Park and Stafferton Way, Maidenhead, Upton Court Park, Slough and Windsor Great Park will be used to help spectators attending by road.
Buses will travel to Windsor Racecourse where a temporary bridge over the Thames will give access to Dorney Lake.
Phil Bicknell from Windsor and Maidenhead council said any temporary road disruptions would be worth it.
The councillor, in charge of highways, transport and the environment at the Conservative-run council added: "We can't have hundreds and thousands of cars all over the place so it makes sense to satellite park them and then free shuttle bus them in.
"But to have this event going on once in your lifetime in your own back garden is an amazing thing."
'No confidence'
However, Taplow resident Robin White told the BBC that people living around Dorney Lake had not been given enough information about the plans.
"The locals are frightened to death about what's going to happen," he said.
"I've been told I shan't be able to turn left off my drive because I'm on the main Bath Road.
"Don't get me wrong, I love sport. I want it to be a success but I've got no confidence in what these people are doing."
South Bucks District Council, which controls some of the roads near Taplow, sets out its proposed traffic plans on its website.
It adds that "local area wide traffic management schemes, including temporary local parking restrictions and traffic management schemes, will need to be put in place around the venue".
Dorney Lake is the venue for the rowing and kayak events in the Olympic and Paralympic Games between 28 July and 3 September 2012.