Atomic weapons base false alarm wakes neighbours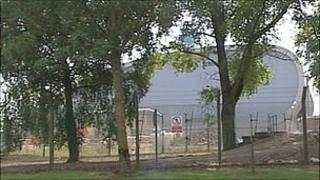 A loudspeaker alarm from the complex supervising Britain's nuclear deterrent gave residents of the Berkshire village of Aldermaston an early morning fright.
The alarm was generated from within the Atomic Weapons Establishment (AWE) at 05:00 BST last Friday.
A spokesman blamed a sensor fault within the complex.
One resident said better communication from the AWE might help "even it's just an email round the neighbours saying apologies".
Annette Adaway, who lives within a few hundred metres of the base, said: "As yet I haven't heard what the situation was."
Steve Fussy, from the AWE, said the false alarm, which was triggered by a "sensor fault", was not meant to alert residents.
He said: "The alarm was for the site not for our local residents, but particularly on still days they can still hear it."
He added that residents within a 3km range of the site received a booklet about emergency arrangements.
Its 750-acre Aldermaston site has been the headquarters of the British atomic weapons programme since 1950.