Slough firm Duco International fined over worker death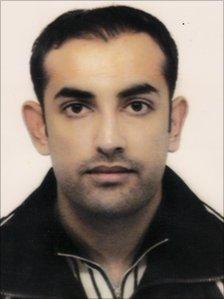 A firm which admitted safety failures over the death of a worker at its Slough factory has been fined £200,000.
Mitesh Prashar, 24, was killed while operating machinery on 15 January while working a night shift for Salford-based company Duco International Ltd.
The court heard no risk assessment had been carried out on the machine he was operating when the accident happened.
Mr Prashar had not been given enough training to operate the machine, which quality-checked large rubber sheets.
Speaking for the prosecution, solicitor Deanna Heer said a colleague working with Mr Prashar had heard a "muffled cry".
She said: "He found him trapped beneath a blanket and a roller, badly injured and unconscious, with his arm under the roller."
Mr Prashar died of his injuries before he could be moved from the machine.
The official in charge of health and safety at the factory, David Lenihan, had resigned the previous month because he was so concerned an accident would happen.
The court heard there were "systemic failures" in the company's health and safety policy.
Following the death of Mr Prashar, a risk assessment was carried out and the machinery was made safe by fitting a guard.
Speaking for the defence, Richard Matthews QC said the company had ceased trading and would be wound up after meeting its "liability" in this case.
Mr Matthews said: "The company has expressed its great regret for the death of Mitesh Prashar.
"There should have been a risk assessment into the running of this machine."
Judge Bruce McIntyre said it was a "dreadful accident", however he told the court that the company had not put profits before safety.
Duco International, which has its headquarters in Northbank Industrial Park, Irlam, admitted breaching both the Health and Safety at Work Act 1974 and the Management of Health at Work Regulations 1999. The company was ordered to pay £43,000 in costs.
Speaking outside the court, Mr Prashar's brother Anoop, who lives in Langley, said the death had caused a "wound which will always be there" and that it "could have been avoided".
Related Internet Links
The BBC is not responsible for the content of external sites.