Rail freight interchange proposed for Colnbrook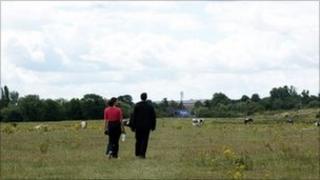 Councillors are being urged to reject plans to build a rail freight interchange on green belt land in Berkshire.
The area measuring 140 acres (58 hectares) in Colnbrook is located close to the M25, M4 and Heathrow.
A proposed Slough International Freight Exchange (Sife) would allow freight to be transported between rail and roads, and create jobs.
But Slough Borough Council officers say the location is "inappropriate".
In a report being heard at a planning meeting on Thursday, officers said the development would cause "significant harm" to a "fragmented and vulnerable" area of the green belt.
They added it would result in the "further coalescence" of Slough and Greater London and the further loss of the "separate identity" of Slough.
The developer, Goodman, said the government had identified a need for rail freight facilities in the south east.
It said its proposal would enable goods to be transferred off congested roads onto rail, deliver £150m of investment into the area, and generate 3,000 new jobs.
Colnbrook parish councillor Michael Nye said: "Most of the problems local people have is the ingress of more traffic into the area. What we're looking at is 3,000 heavy goods vehicles per day adding to the traffic on that particular section of road.
"The loss of the green belt is quite a big issue, because there are people who do use it. It's part of the Colne Valley Way walk."
A previous proposal for a Rail Freight Terminal at Radlett, St Albans, was rejected by communities secretary Eric Pickles due to its impact on the green belt.