Windsor Castle bans children under 11 climbing tower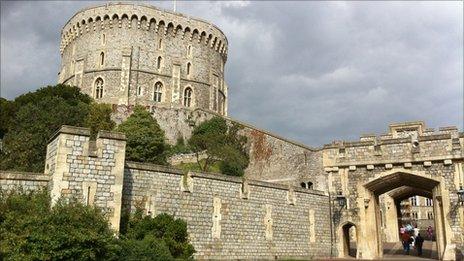 Windsor Castle has banned children under the age of 11 from climbing its Round Tower, which recently reopened to the public after 36 years.
Bosses put the age restriction in place after a health and safety assessment on the iconic 200-stone step tower.
A Windsor Castle spokesman said: "It was thought a child of 11 might be too short to reach the handrail."
Children up to 16 must also be accompanied by an adult when climbing the 215 ft (65.5m) medieval fortress.
A spokeswoman for the Royal Collection said a health and safety assessment had been held before the tower was reopened on 1 August.
She said: "There are 200 stone steps to the top and it's steep. Another issue is that the average child aged under 11 may find it difficult to reach the handrail. Safety is paramount.
"More than 4,000 people have now gone up the tower in the first month of it being reopened and have really enjoyed the view from the top.
"The tower has been opened as a pilot scheme and if at the end of this scheme we decide to continue, we will look at this issue."
The tower, built by Henry II in the 1170s, was closed in 1975 for major construction work.
It has imprisoned kings and princes, including James I of Scotland.
The Health and Safety Executive deemed it inappropriate to comment on the age restriction as the risk assessment was carried by castle staff.
Related Internet Links
The BBC is not responsible for the content of external sites.