Sir Steve Redgrave helps fire-hit Marlow Rowing Club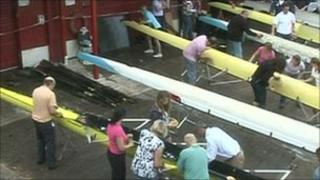 Marlow Rowing Club has praised the "heart-warming" response from the local community since its boathouse was gutted by fire last week.
The damage to the club's buildings and boats prompted five-time Olympic champion Sir Steve Redgrave to offer his help in rebuilding the club.
More than 100 people helped clean its soot-damaged boats over the weekend.
Firefighters battled the blaze at the club on the Berkshire side of the River Thames last Wednesday.
Investigators have concluded the fire was not started deliberately or suspiciously.
Sir Steve is a life member and vice-president of the club and started his rowing career in Marlow.
'Fantastic response'
Mike Parsons, a committee member and rower at the club, said rowers had been out on the water at the weekend following the fire
They are planning to compete in a regatta on Saturday with the help of Maidenhead Rowing Club.
The club set up a stand on The Green in Marlow to tell residents their plans to rebuild the club and received a "fantastic response".
Mr Parsons said: "It's been really heart-warming.
"We had a former member in her 80s come up and introduce herself to us. She rowed with us in the 1940s and was one of the first women members.
"We've heard from former Marlow members of the club who are based all around the world."
The club has lost all of the boats used by its rowing eights and a number of single sculls.