John Lennon's cowboy hat and sunglasses fetch £8,500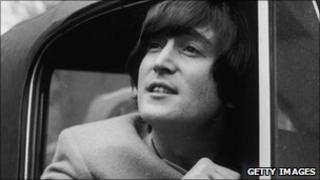 A cowboy hat and sunglasses once owned by John Lennon were sold for £8,500 at an auction in Berkshire.
The former Beatle wore the black hat during the band's 1965 US tour and the Italian sunglasses in 1967.
He gave both items to his uncle Charlie Lennon, who was "like a stepfather" according to Midgham-based Cameo Auctioneers, which sold the lots.
Glen Norcliffe said: "The hat is quite a famous hat, I think everybody would recognise it."
He added: "The pair of sunglasses are really conventional but he gave them to his uncle who like a step-father to him, so they had great sentimental value."
Charlie Lennon died in May 2002 and had given the items to long-time friend Larry Warren, who put the items up for auction.
The cowboy hat sold for £5,500 and the sunglasses went for £3,000 at the auction on Tuesday.