Viva Brother: 'Journalists are too precious'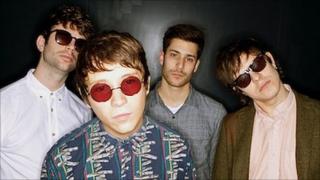 Viva Brother arrived at Heathrow from LA at 08:30 BST, and by 15:00 they're sitting in the staffroom at HMV in Reading, ready for an in-store gig to promote their debut album Famous First Words.
The Slough band's golden tans hide their "fatigue" but their retaliation against poor album reviews has fired them up.
Famous First Words was released on Geffen on 1 August to general dismissal by music journalists, who have cast them as failed Britpop copyists.
"Viva Brother's works are so mimetic they make you long for Noel Gallagher's pastiches of the Beatles," states one review.
Another declares the album is "ten pieces of chugging Brit-rock so soul-crushingly doctrinaire they make Cast sound like Captain Beefheart."
"I think people take things a bit too seriously," said guitarist Josh Ward.
"We do appreciate the 90s era but we're not trying to bring back Britpop, we're just trying to have a laugh."
Frontman Lee said: "I think journalists are a little bit precious about Britpop, I don't know why.
"I'm just influenced by whatever I listen to.
"We will continue to challenge ourselves with albums no matter what the critics say, we've just got to focus on the people who do like us and those who haven't heard of us yet."