Marlow Rowing Club badly damaged in fire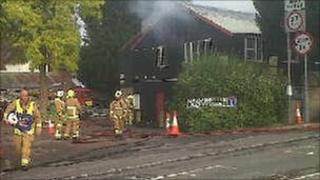 Marlow Rowing Club has been badly damaged by fire.
Berkshire Fire and Rescue Service said 55 firefighters were called to the club in the early hours.
The service said investigations were continuing at the club, on the Berkshire side of the River Thames, but arson was not suspected.
Five-time Olympic champion Sir Steve Redgrave, who lives in Marlow, said: "I'm a bit shocked. My daughter's boat is at the club."
'Disrupt training'
Sir Steve said the club, which was important to the local community, had a very old collection of rowing photographs.
"It will disrupt the training the athletes are doing down there.
"The boats can be replaced but the memorabilia can't be replaced."
Club secretary Ed Phillips said: "There's a lot of smoke and fire damage to the boats.
"In the central part of the club, part of the roof is down, a lot of the windows are out.
"Most distressingly, the damage is largely to the older part of the club, where there's a lot of historical stuff in the bar such as old pictures and old boats."
Olympic gold medallist Zac Purchase is another member of the club, as is triple Olympic Silver medallist Katherine Grainger MBE.
She said: "It is so incredibly sad for the club. The whole of the rowing community will unite to support in any way they can and there is a huge feeling of support from the British team.
"I am sure that once the initial devastation is dealt with then there will be positive plans to see the club back on its feet. I know we'll help in any way we can."