Kenneth Branagh becomes Reading Progress Theatre patron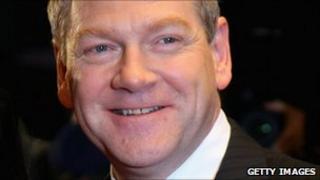 Actor Kenneth Branagh has become the patron of the Berkshire theatre company he first joined as a teenager.
Branagh joined Progress Theatre after his family moved to Reading from their native Belfast in the late 1960s.
The Oscar and Bafta nominated actor and director said: "My stage career started at the Progress when I was a teenager."
The theatre's Aiden Moran said Branagh's endorsement "adds further credibility to the quality and diversity of theatre we produce".
The volunteer-run company runs its own 95-seat theatre, youth drama group and Reading Abbey's annual outdoor Shakespeare festival.
Fifty-year-old Branagh is known for his acclaimed Shakespeare film adaptations including Much Ado About Nothing and Hamlet. He has more recently directed the film Thor and played the title role in the BBC's Wallander drama series.
He paid tribute to the Reading theatre, saying: "Next year the Progress Theatre celebrates its 65th anniversary and continues to maintain a quality of production that remains second to none."