Theo Walcott's Downs School 100m record broken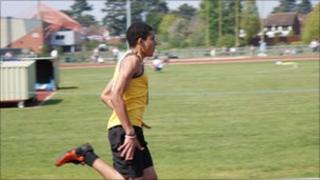 A 14-year-old schoolboy has broken a 100m record that was set by Arsenal footballer Theo Walcott.
The England forward was known as an all-round athlete when he attended the Downs School in Compton, Berkshire, excelling at cricket and athletics as well as football.
But Joshua Willock, a year nine pupil, has overtaken the Arsenal striker's record of 11.58 seconds, set in 2004.
Joshua ran the event in 11.51 seconds at the school's sports day.
'Very dedicated'
His athletics coach, Averil Hewitt, said Joshua was "amazing".
She said: "He's got a lot of talent."
PE teacher at The Downs Gemma Stanifor said: "Josh is very dedicated, and he's admired by all the students.
"It was fantastic to see him break the record in front of the whole school, especially as the record was previously held by Theo Walcott."
Walcott, 22, is regarded as among the quickest players in the Premier League.
On hearing of Joshua's record, he said: "Congratulations to Joshua on this great achievement.
"I must admit, when I was told that my record had been broken, I was gutted.
"I remember setting the record in 2004 and it's something I'm proud of. But most importantly, fair play and congratulations to Joshua.
"I'm also really proud that Downs School continues to produce high quality athletes."