Reading bedridden woman bitten by rat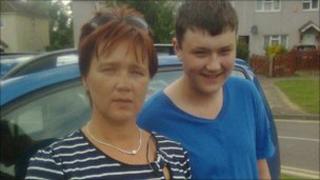 A bedridden woman in her 80s has been bitten by a rat amid an infestation in a suburb of Reading.
The woman and the family living next door have been evacuated from their homes in Southcote.
James Sullivan, 16, said that his six-year-old sister woke up with two rats on her bed and will no longer sleep in her own room as a result.
Reading Borough Council and Thames Valley Police said they are "investigating".
The infestation has spread in the Byefield Road, Hatford Road and Brunel Road area of Southcote.
'Heard gnawings'
Chris Sullivan said that his next door neighbour had been bitten by a rat and that contractors sent by the council had now put rat bait down nearby sewers.
His son James said a rat had gnawed a hole through the draught excluder by his bedroom door.
"I woke up in the middle of the night and heard gnawings so I looked down and there was a rat crawling through," he said.
His mother Alison Sullivan said they have let the council know about the rat problem for the past three years.
She said: "I had a letter from the council last Monday to say that there was no problem with rats.
"Then two days later they were asking us to move out into a bed and breakfast while they sorted it out."
Southcote ward councillor Deborah Edwards, who is also Reading's mayoress, said: "I know that this being attended to and hopefully this will be sorted out."
Council spokesman Oscar Mortali said its environmental health team was "aware of a rat infestation in the general area" and was "investigating possible links with the drainage system and the laying of bait".
He added: "As part of that work we have offered temporary accommodation to occupants in adjoining properties so that the team can gain the necessary access to carry out further work."
Police spokesman Adam Fisher said: "We are working with partner agencies to investigate the living conditions an elderly woman was found in at her home address in Byefield Road in late June."