Slough council to force £450m revamp land buy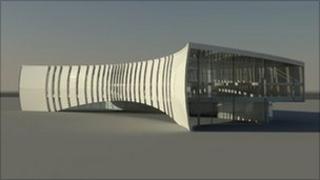 Slough council is to serve compulsory purchase orders (CPOs) on landowners as it presses ahead with a £450m revamp.
The authority has failed to reach agreement with owners of plots of land forming part of the Prudential Yard and part of the existing Code building.
The land is needed for construction of the Curve centre, which will form part of the Heart of Slough plan.
Landowners are being contacted and could spark a public inquiry if they object to the purchase orders.
John Rice, interim assistant director of property and regeneration at the council, said: "The council would have preferred to have reached an agreement through negotiation with all of the landowners, but sadly that's not been possible.
"Significant resources are being invested in the Heart of Slough project and we are not prepared to jeopardise that investment in the town."
The Curve will house a library, adult education facilities, a cafe and a cultural centre.
Councillor James Swindlehurst said: "The Curve is one of the centrepieces of the town centre regeneration, and is critical to creating a welcoming, functional and enjoyable civic space in the town centre.
"We had hoped the CPO would not be necessary but we cannot delay the project with further negotiations."