Wokingham town centre plans unveiled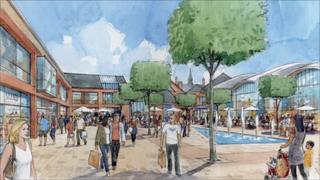 Plans for a £95m revamp of a Berkshire town centre have gone on display.
The project to build shops, a hotel, supermarket, and 190 homes in Wokingham will create about 700 jobs and take five years, the borough council said.
The developer said that currently the town does not "have the correct balance of national retailers".
A residents' group said that developing one of the town's open spaces would affect the "green lung within the heart of Wokingham".
The public display, in Peach Street, Wokingham comes ahead of a planning application to be submitted at the end of November.
Developer Wilson Bowden has been working with the borough council to create design proposals for two areas of the town centre, Peach Place and Elms Field.
The developer said that Wokingham needed to compete with neighbouring towns Reading and Bracknell.
Without regeneration, it said the town "will gradually decline, eroding the commercial and community heart of the borough".
Councillor Matt Deegan, who is in charge of the regeneration project, said that the town has "suffered for a long time" because Wokingham does not offer enough small units for "independent niche boutique-style retailers".
But Peter Must from the Wokingham Society said: "Elms Field is a beautiful open green space and really shouldn't be changed at all."
He said that only six out of 80 residents at a recent public meeting wanted a new supermarket.
He added that the proposed supermarket's position on an "anchor site" would be unattractive for people coming into the town.
The plans are on display until 1600 BST on Saturday.