Berkshire boy's dying wish for holiday home comes true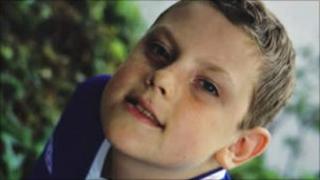 Nine-year-old Sebastian Gates knew he did not have long to live.
Two years before he had been diagnosed with a rare form of childhood cancer, Wilms' tumour.
In the last few weeks of his life, he decided he wanted to build a specialist holiday home for fellow sick children and their families.
He died on Christmas Eve 2003.
Now The Bluebells, in North Waltham, Hampshire, has opened after eight years of fund raising.
The £850,000 complex could play host to up to 100 families a year, completely free of charge.
'Without fear'
Sebastian's mother Jane Gates had set up Sebastian's Action Trust to make her son's wish a reality.
It raised enough money to build the facility as well as pay for maintenance and a housekeeper.
Mrs Gates, from Binfield, Berkshire, said: "When Sebastian articulated his plans to raise the money to build a special holiday facility he had no idea of the scale of such a project.
"But when you have watched your beloved child endure so much without complaint or fear, the thought of not going to the ends of the earth to realise that wish on his behalf is incomprehensible."
The purpose-built home will be open all year round and provide two four-bedroom self-catering apartments, a live-in house keeper's apartment and shared leisure facilities.
Mrs Gates said that children undergoing treatment for cancer were often unable to swim in public pools or go to the cinema due to the risk of infection.
The Bluebells has an indoor hydrotherapy spa pool to take this into account as well as a sensory room, music room and art room.
Outdoors there is a nine-hole golf course and an adventure play area.
Mrs Gates said that The Bluebells would offer families the chance to enjoy valuable time together, "something that is very hard to achieve with the demands of their child's treatment".
"They often find themselves unable to go on holiday at the last minute due to the child's illness or unable to obtain travel insurance," she said.
She said her family had to cancel 13 planned holidays at short notice during Sebastian's illness.
Among the guests at The Bluebells' opening was David Wilkie MBE, the Olympic gold medal swimmer who is a patron of Sebastian's Action Trust.
He said: "Here [families] will get a welcome holiday together and all of it wrapped in the love that is Sebastian's gift to all of them.
"If there are any Olympians here it must surely be Jane Gates and all her team who have helped Sebastian's dream come true."
The trust receives no government funding and the money needed to build the house has been raised through hundreds of events, personal challenges and donations.
The first bookings include families from Shropshire, Berkshire, Buckinghamshire, Nottinghamshire, Scotland, and Cornwall.
Mrs Gates said: "I know that Sebastian will be filled with pride as he watches all that is achieved in his name."