Wokingham railway station upgrade plans unveiled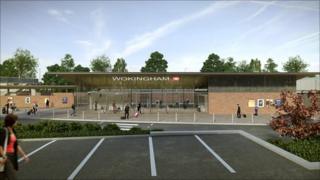 Final plans for a multi-million pound upgrade to Wokingham railway station in Berkshire have been unveiled.
Work is expected to start in spring 2012 and will include replacing the current station building and providing a new ticket office.
A spokesman said that the station would remain open to passengers with no disruption to the train services.
The upgrade is part of a £150m rail industry scheme to improve 150 medium-sized stations in England and Wales.
Dave Josey, South West Trains station manager for Wokingham, said two million passengers used the station each year.
"We hope the new look station will encourage even more people to start travelling by train," he said.
Network Rail spokesman Gary Gaskarth said that while there was "nothing wrong" with the existing rail service at Wokingham, the upgrade was about "providing facilities that are better suited to modern passengers".
He added that the final cost of the plans were not yet known but that it would be a "multi-million pound scheme".
The redevelopment is funded jointly by Wokingham Borough Council, South West Trains and the government's National Stations Improvement Programme.
The upgrade is expected to be completed by spring 2013.