Royal Berkshire Hospital ward bequest 'a mystery'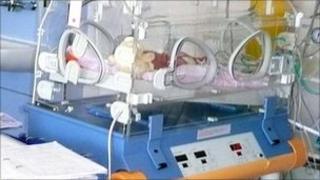 A Reading woman has left Royal Berkshire Hospital £500,000 in her will but the reason why remains a mystery.
The hospital first knew of Edna Flook's donation when a cheque arrived by post.
The premature babies ward is getting £225,000, while the cardiac and eye units will each get £101,000. The rest is shared among other departments.
Hospital spokesman Joe Wise said: "It's amazing, it's like having a shopping list. But there's absolutely nothing in her will about why she left it."
Staff at the Buscot premature babies ward learnt on Friday afternoon they were receiving the full amount of money they need to replace all five ventilators, monitors and incubators.
Sue Timperley, responsible for women and children at the hospital, said: "It is exciting for everybody.
"It is an extremely generous offering and we're dying to get the equipment."
On average 6,000 babies are born at the Royal Berkshire and one in 10 of those will spend time in the Buscot ward, according to the hospital.
The hospital had no indication of Mrs Flook's legacy until her solicitor sent the cheque.
Mr Wise said the only request Mrs Flook made was for the money "to be either used to endow a ward or to buy a scanner".
He said Mrs Flook, who died in 2009 aged 86, had spent five weeks at the hospital but "for nothing particularly of note".
He added that she had no children, and that her cousin also did not know why she made the bequest.
He said: "We've never had a donation in this way before."