Heatherwood Hospital closure fear protest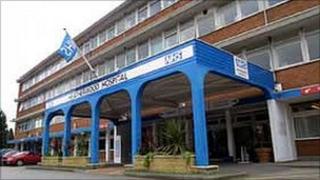 Campaigners have staged a protest over concerns Heatherwood Hospital in Ascot, Berkshire, will close.
They fear the East Berkshire Primary Care Trust plans to close it amid health service cuts.
The PCT said that "there are no plans yet for any reconfiguration" but that it will review services due to "substantial reductions in funding".
The Heatherwood And Wexham Park NHS Foundation Trust needed an £18m loan from the government last year.
'Very valued'
Campaigner Marc Green, from Slough And Windsor Against The Cuts, said: "The PCT have refused to confirm or deny, which in politician-speak is the same as saying it is going to happen."
He added: "Many people use this hospital and it's very valued by the local community."
A statement from East Berkshire PCT said: "In today's economic environment it is vital that NHS funding is used in the most effective way.
"The board will develop a programme, exploring all aspects of health care provided currently, and to ensure the best model of care for east Berkshire residents."
The protest was held in Peascod Street, Windsor, at 1030 BST.