Lordship of Bisham manor up for sale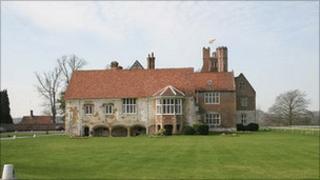 Members of the public have the chance to become a lord of the manor as a Berkshire title is up for sale.
The manorial lordship of Bisham in Berkshire was first bestowed by William The Conqueror to Henry De Ferrers in the 11th Century.
Now, the title is up for sale with a price tag of £8,250.
Although the lordship no longer comes with land, or the famous Bisham Abbey, the title can be added to credit cards and passports.
"Lordships of the manor date back to at least 1086, when landowners were recorded in the Domesday Book," said Robert Smith, chair of the Manorial Society of Great Britain.
"You owned not only the lordship of the manor but all the land within the manor.
"You had power over the people of the manor who owed you services in exchange for their land."
A quirk of English law, mainly the Law Of Property Acts 1922 and 1925, makes the titles without the land saleable.
The lordship of Bisham Manor is currently owned by the River Thames Society after the title was left to them by Margaret Dickinson, the last surviving member of the Vansittart family that originally owned Bisham Abbey.
A former member of the society, Miss Dickinson, also donated a piece of land near the abbey called Bondig Bank.
Henry VIII
The money from the sale will go towards maintaining the land and campaigns to improve and protect the Thames.
Peter Finch, chairman of the society, said: "Since 2000 it's been registered with the Land Registry as belonging to us but it's just laid there.
"Like all charities, we are always on the look out for a way to strengthen our finances."
Mr Smith said that the titles were worth more depending on their location and history.
Records show that a manor house was built at Bisham in 1260 for two Knights Templar.
Henry VIII granted the manor house to Anne of Cleves as part of her divorce settlement from him, and it was later bought by the Hoby family, who lived there until 1768.
'Flaunt it'
Mr Smith added that titles were bought almost solely by the British, but that the type of person interested in such a title does vary.
"There are an awful lot of people who buy their local lordship and want complete anonymity but of course there are those who like to flaunt it," he said.
The manorial society, founded in 1906, sells more than 100 titles a year with prices averaging between £5,000 and £10,000.
Other titles currently for sale include Lordship of Elrington in Northumberland, Lordship of Showell in Oxfordshire and Lordship of Grateley in Hampshire.
Also on offer by auction in July is Lordship of the Manor of Manaton in Devon, reputed to be the inspiration for The Hound Of The Baskervilles by Sir Arthur Conan Doyle.