Fake champagne seized from Windsor and Maidenhead shops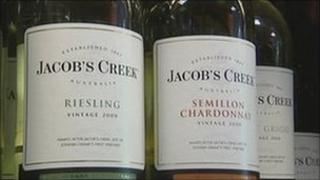 Trading standards and licensing officers in Berkshire have discovered counterfeit and illegal alcohol and tobacco on sale in shops in the county.
Officers working for the Royal Borough of Windsor and Maidenhead said they removed 30 bottles of fake champagne after searching 15 premises.
They also found 70 bottles of fake Jacob's Creek wine.
Several shops in the borough were also found to be selling tobacco products bearing German health warnings.
Among the fake champagne were bottles falsely labelled as Bollinger, on sale for up to £50.
During the inspections, officers also discovered 76 bottles of whisky and vodka intended for export, which would not have been subject to the £6.70 a bottle duty which should be paid on spirits sold in the UK.
Other bottles were found on sale with no excise duty stamp or with duty labels from other European countries.
All the shops voluntarily surrendered the illegal bottles and were given a warning by trading standards officers.