Order of the Garter service held at Windsor Castle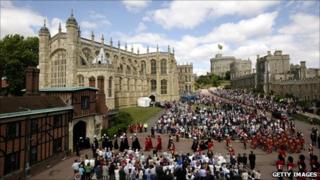 The Queen was joined in Windsor by members of the royal family, including the Duchess of Cambridge, for an Order of the Garter Service.
The annual service takes place every June on the Monday of Royal Ascot week, known as Garter Day.
New Companions of the Order are invested with their insignia in the Throne Room of Windsor Castle.
The Order of the Garter was founded by Edward III in 1348 and is the oldest British Order of Chivalry.
The Order is limited to 24 knights, each chosen individually by the Queen for their contribution to public life or the Sovereign.
The patron saint of the Order is St George and the spiritual home is St George's Chapel, Windsor.
Every knight is required to display a banner of his arms in the Chapel, together with a helmet, crest and sword and an enamelled stall plate.
On Garter Day a lunch is given in the Waterloo Chamber, after which the knights process to a service in St George's Chapel, wearing their blue velvet robes and black velvet hats with white plumes.
The Queen attended the service as Sovereign of the Order along with The Duke of Edinburgh, The Prince of Wales and The Princess Royal.