Mozart sheet music found in Oxfam withdrawn from auction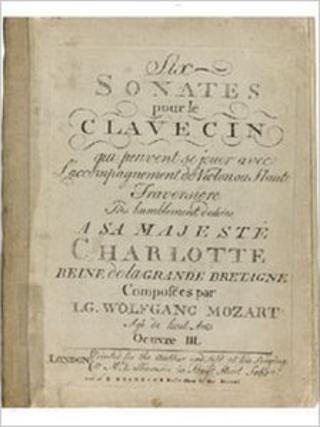 A rare booklet of music by Mozart due to be auctioned has been withdrawn because it was donated to a charity shop "in error".
An Oxfam volunteer in Reading, Berkshire, discovered the rare booklet in a box of donated sheet music.
The lot was due to be auctioned at Sotheby's at 1500 BST, and was expected to raise about £3,000 for the charity.
An Oxfam spokesman said the booklet had been withdrawn because a woman had told them "it was donated by mistake".
He said: "It has been withdrawn pending an investigation into the claim. We're in discussions with the donor and have asked her to come forward with proof that it is hers."
He added that Oxfam had an informal contract of goodwill with its donors and if the woman could provide proof that it was hers and that the donation was a mistake the charity was obliged to return it to her.
The booklet was discovered by volunteer Elestr Lee at the Oxfam music shop in Reading.
It turned out to be sheet music for six short sonatas printed in 1765 when Mozart was visiting London aged eight.
"It was obviously very old because it was engraved and so I started to research it," said Ms Lee, a classical musician who volunteers at Oxfam.
She translated the French writing on the front and discovered the booklet of sonatas, for piano and violin, was a rare second printing of a first edition and that only one other copy is known to exist.
"It was terribly exciting," she said.
"I left a rather garbled message for Sotheby's and they phoned me back and said, 'yes we do think this is interesting'."
The auction house wanted to see the booklet on the same day so Ms Lee "leapt on a train" with the rare find.
Ms Lee said: "It was just a box of sheet music that the Newbury shop couldn't sell, so because we're a specialist music shop they sent it to us."