Mozart charity shop find only 'one of 10 in the world'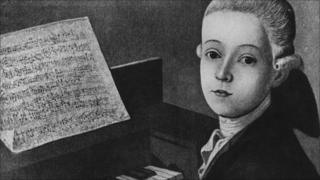 When an Oxfam volunteer at the charity's Reading shop opened up a box of donated sheet music, she knew almost immediately there was something special about the tatty score on top.
Elestr Lee, a musician, quickly spotted the printed composer's name at the bottom - Wolfgang Mozart.
She researched the inscription on the front, which was in French and dedicated to Queen Charlotte, wife of King George III who reigned from 1760 to 1820.
It read in French that the booklet contained 'six sonatas for the harpsichord'.
To her delight Sotheby's confirmed that the discovery was a first edition piece of music that an eight-year-old Mozart wrote on a visit to London in January 1765.
The booklet was to be one of 190 musical items put up for auction at Sotheby's in London on Wednesday.
'Infant prodigy'
However, it was withdrawn from the sale by Oxfam after it was contacted by a woman claiming to be its owner who said it was donated in error.
"It's a very early edition of Mozart," said Dr Simon Maguire, senior specialist in printed and manuscript music at Sotheby's.
"It's one of the first things he wrote when he was touring England as part of his Grand Tour as an infant prodigy."
The young Mozart went on a performing tour throughout Europe after his father, also a violinist, recognised his son's musical talents.
The family arrived in London on 23 April 1764 and left on 24 July 1765.
There he befriended Johann Christian, son of Johann Sebastian Bach, with whom he performed four-handed piano exhibitions.
The eight-year-old also composed two symphonies for a London performance and played twice before King George III and Queen Charlotte.
'Real money'
The booklet discovered at the Oxfam music shop in Reading is a collection of sonatas he composed in London for the violin and piano.
"I only know of one other copy quite like this," said Dr Maguire, "but there are different variants of it so there are probably about 10 that are known in the world."
He confirmed the booklet was genuine after inspecting the paper the music was printed on.
"The paper is genuine 18th Century paper," he said. "It's from having seen other similar copies that we can identify this as one that is not a fake."
Dr Maguire said that damage to the booklet had brought the estimated value down to £3,000.
"It's not quite perfect," he said. "There is a little bit that's missing, on the side of one of the leaves there would originally have been another bit flapping out."
Before its withdrawal from the auction, he said of those who would have been interested in purchasing it: "There will be specialist music libraries that don't have a copy of one of Mozart's first publications and there are also collectors of first editions.
"The real money is in manuscripts in Mozart's own handwriting.
"We sold a manuscript of Mozart's symphonies in his own hand, and they went for £2.5m."