Martin Rushent's studio stories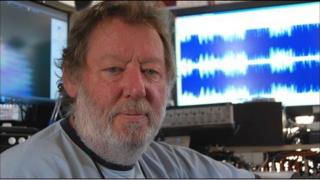 Music producer Martin Rushent, who worked with bands including The Human League and The Stranglers, has died aged 63. A BBC journalist who was among the last to interview him recalls his stories of life at the mixing desk.
Hearing of Martin Rushent's death has left me saddened and surprised.
In March this year I interviewed the 63-year-old about his forthcoming plans at a rehearsal space in Hurst, Berkshire, used by Reading band Amy's Ghost, with whom Martin was going to work after seeing them live a month before.
This was exciting for the band, as Martin had worked everyone from Jerry Lee Lewis and Marc Bolan to Fleetwood Mac and The Stranglers.
Martin was sitting having a roll-up cigarette on one of the old sofas. He looked, as always, a little dishevelled, but appeared to be in rude health.
On a previous encounter, as I found him busy packing for France, he had just finished working with disco pop outfit The Pipettes - using his bathroom as one of the recording spaces.
As usual, Martin had lots of things going on at the same time. He showed me his studio in a spare room upstairs. You could barely move for all the computers, cables and screens.
He swivelled round to turn up a dial, and soon the room boomed with his latest project, a track called The Monkeys Are Coming by Does It Offend You, Yeah?, a Reading band fronted by his son James.
"It's great isn't it!" he shouted over the track, his bearded face grinning.
Downstairs in his living room, he relaxed into his leather sofa and reminisced about his younger days.
Rushent was around 25 in the mid-1970s when he worked with Shirley Bassey as a sound engineer and co-producer.
"It filled me with dread," he said. "She arrived and swept through reception looking like thunder and disappeared into the studio.
T.Rex album
"I walked in and I said, 'morning Miss Bassey, my name is Martin Rushent and I'm going to be your new engineer and co-producer'. Whereupon she threw a mic stand at me. She told me to get out! She apologised afterwards, I hasten to add."
During his time working as a sound engineer at Vision Studios in London, Rushent worked with producer Tony Visconti on T-Rex's Electric Warrior album, released in 1971.
Rushent sealed his reputation as a producer when he worked with The Human League on Dare, released in 1981, which featured the huge hit Don't You Want Me.
Rushent recalled how he made it clear who was boss: "They were under the impression that I was going to work on what they'd done so far and improve that and carry on.
"I said, 'no I'm not doing that, we're starting again', which was a bit of a shock for Phil [Oakey, lead singer]. He argued about that but I said, 'no, if I'm going to produce you, you're going to do what I tell you to do'. This is my attitude to everybody I produce, it's a sort of democratic dictatorship!"
After the single became a hit Rushent was assigned to producing the album, which won him a 1982 Brit Award.
Despite the novel sound Rushent was not expecting the album to have such global and long-lasting success.
"We couldn't believe it," he said. "We were just making a record and suddenly it just exploded all over the world and has since become a legendary record. It's just mad!
"If somebody had told me then, 'do you realise you are making history with this record?', I'd have said, 'yeah alright, calm down and have a cup of tea!'."