Reading's chalk mines leave legacy for home owners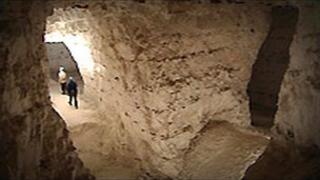 People living in west Reading are facing five more months of disruption as safety work is carried out on disused chalk mines under their homes.
In 2000, dozens of people in the Field Road and Coley Road area were forced out of their homes when an abandoned chalk mine collapsed.
A £4.3m project has been under way since to stabilise the area since the beginning of the year.
The contractor carrying out the works said mine collapses were "rare".
However, earlier this month a hole opened up in a garden in Earley, believed to be the result of a disused chalk mine shaft.
Dr Clive Edmonds, from Peter Brett Associates, the company carrying out the work on behalf of Reading Borough Council, said the area had a long history of brick and tile making.
He said that had involved excavating chalk from beneath the ground.
"The mines below Field Road were quite shallow," he said.
"The roof of the mine was 8ft below ground level and the ground had been weakening over the 150 years-plus since the mine was closed.
"Eventually the leakage of pipes caused the breakdown of the mine roof.
"Once we've found the mining cavities and filled them this shouldn't happen again."
Bricks and tiles
Experts have said it may never be known how many chalk mines there are under the town of Reading and its surrounding suburbs.
Bricks and tiles have been made in the Reading area since the medieval period.
In Old English, Tilehurst means a wooded hill where tiles were made.
However, it was in the 19th Century that the brick making became one of the three "Bs" in Reading, along with beer and biscuit manufacturing.
Thomas Hardy even referred to Reading as "Aldbrickham", the old brick town, in his novel Jude the Obscure.
Most of the town's Georgian and Victorian buildings are built of locally-produced brick, tile and terracotta.
Alongside the building trade, chalk mines would have sprung up in the countryside around Reading with no planning permission or record kept of where they were, according to local historian and geologist Jane Walton.
"There is no way of knowing where they all are," said Ms Walton.
However, there is some consolation to the residents of Field Road and Coley Road.
Naheem Bashir, who lives in Field Road said: "We've been given reassurances from geo-technical specialist that once this problem is rectified it will be the most stable area of Reading."