New Slough bus station opens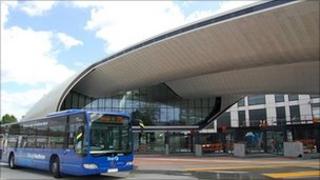 A new bus station has opened in Slough, replacing the Brunel bus station made infamous by the opening credits of BBC television comedy The Office.
The old bus station closed in the early hours of Saturday after the route 81 bus to Hounslow left at 0016 BST.
A bus departing on the same route at 0448 BST on the same day marked the new station's opening.
The building's undulating shape represents waves of light inspired by Slough astronomer William Herschel.
The facilities in the new Berkshire bus station include a cafe, newsagent and waiting areas, together with offices for the bus operators.
Councillor James Swindlehurst, Slough council's member for transport and regeneration, said: "Visible from the train station, it makes a confident statement about Slough's desire to keep improving itself, and turns a new page for the town centre."
The new building is part of the £450m Heart Of Slough project regenerating the town centre.
The project includes major infrastructure improvements in the centre of Slough, a new library and cultural centre - now called The Curve, new offices and residential accommodation.