Maidenhead holding its first half marathon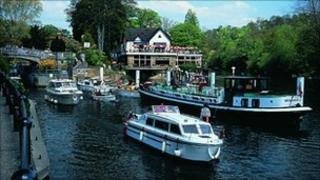 The Berkshire town of Maidenhead is hosting its first half marathon, on Sunday 4 September.
The 13.1 mile route will take race-goers along the River Thames and through the villages of Bray and Cookham.
Organiser Chris Donald said: "We're trying to showcase the best bits of Maidenhead but also keep it a town centre event."
The race will start and finish at the town hall.
For the inaugural event all entrants will keep their original number to be used for the town's future half marathons.
"After five years the colour of the number will change to indicate their length of service," said Mr Donald, 44. "After ten years it will change colour again."
A secret bid will also be held for the number one, with the highest bid being donated to race charity, The Link Foundation.
Mr Donald said: "I hope we get a lot of club runners but I also really want a lot of the local population of Maidenhead to do it because it's their race and their home town."