Haig's WWI 3D maps unveiled at war museum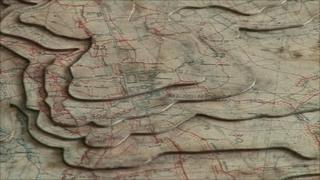 Historic 3D maps used to plan some of the bloodiest battles on the Western Front during World War I have gone on display for the first time.
Experts have spent 10 years putting them together after they were found gathering dust inside an outhouse.
They were used by Field Marshall the Earl Haig and feature their original markings showing the German trenches.
The 120 maps, made from layers of card, are being kept at the Royal Military Academy in Sandhurst, Berkshire.
They cover the battlefields of the Somme, Arras and Passchendaele and are marked with the outline of the enemy lines attacked by the British armies that Earl Haig commanded from 1915-1918.
'Living record'
Lord Astor of Hever, Earl Haig's grandson, unveiled the maps on Saturday.
Pin markings and trench lines are still visible.
Although 1,000 sets were made, the museum believes this is one of the last sets in existence.
They were restored by Derrick Chivers, map conservation officer at the Defence Geographic Centre at Feltham, London.
Dr Chris Pugsley, of the war studies department, described them as a "living record".
He said: "As a sense of being able to teach history, these maps allow us to do it.
"People can come in and study the ground and more importantly get a sense that these aren't just maps from a distance. From the markings on them they were vital in planning the scene, the battles of 1918."