Ivor Novello to be remembered in Littlewick Green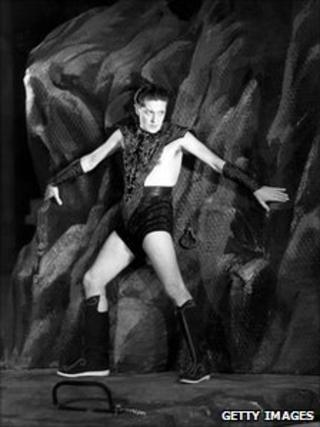 He might remain the toast of the music industry but 60 years after his death Ivor Novello is also being remembered in a small Berkshire village.
The Cardiff-born composer, musician and actor, synonymous with the awards named after him, lived in Littlewick Green.
Luminaries ranging from Winston Churchill to Noel Coward were all guests at his home, Redroofs.
Ivor Novello Day celebrations are taking place on 11 June.
Redroofs is now a stage school that includes actress Kate Winslet among its alumni.
Novello's music room is still a private home, but will be opened for the celebrations, as it does annually.
Hitchcock's casting
The Last Great Romantic, as he is known, has a wide-ranging legacy in song and theatre, the likes of which also helped him make his name in London's West End.
He composed the popular World War I song Keep The Home Fires Burning, which made him a household name.
Alfred Hitchcock cast him in one of his earliest films, The Lodger, and Novello also developed the dialogue for the 1932 film Tarzan the Ape Man.
He is also remembered for his series of lavish musical comedies produced from the mid-1930s to the early 1950s.
Many of his hit musicals were performed as "potted versions" at Littlewick Village Hall to local residents before being staged in the West End.
Novello bought his country house in Littlewick Green in 1927 and lived there until his death in 1951.
According to his biographer, Macqueen Pope, he turned Redroofs into "the most famous theatrical country home in the land."
Nick Gaze, of the Ivor Novello Appreciation Bureau, said: "There was a pretty bohemian crowd.
"Hollywood film stars used to come down to Littlewick for weekend parties."