Craft of 'Harry Potter' broom making 'dying out'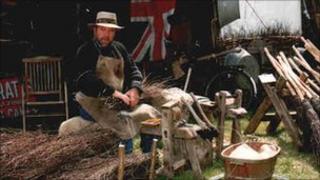 A traditional besom maker who supplied Harry Potter stars with their brooms has said her craft is dying out.
Sue Nash operates her besom broom business from Tadley on the Hampshire/Berkshire border.
Broom making has been in her family for 300 years, and she has supplied everyone from the Royal family to white witches and the cast of Harry Potter.
She has also supplied Johnny Depp's latest film, Dark Shadows, with traditional brooms.
However, Mrs Nash says the number of broom makers is declining.
"There's never been any money in broom making," she said.
Pagan weddings
"We've had some gentlemen in the next village helping out when we were busy, but they've been ill for a while.
"One is in his 80s and one is in his 70s."
Mrs Nash has continued to run her business with her forester son, after her husband Arthur died in 2004.
"A besom broom is a work of art. It's a craft," she said.
"I pick the birch, it's brought back to the yard and stored for six months and then it's picked by hand until it gets down to the size of the broom. That's traditionally the woman's job.
"Then my son makes the broom."
The A Nash Besom Brooms business was also awarded the Queen's Royal Warrant in 1999, meaning the family are the official broom makers for Buckingham Palace.
Mrs Nash said she also does a brisk business supplying A Coven of Witches shop in Burley in the New Forest, and the Museum of Witchcraft in Cornwall.
"We sell a lot for pagan weddings," she said. "There is a tradition in which they jump the broomstick.
"Travellers and gypsies also jump over the broomstick at their weddings."