Wellington College to replace books with iPads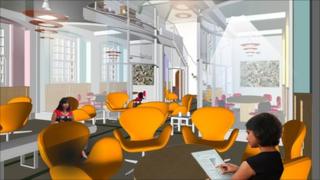 A Berkshire public school is replacing thousands of its books with a state-of-the-art library that uses iPads.
The £2m redevelopment at Wellington College will use the latest touch-screen technology to replace half of its main library's 20,000 books.
Deputy head Jane Lunnon said: "We're keen to recognise the radical shift in the way people, especially young people, are reading and learning."
Work at the Crowthorne-based college will start in September.
The Centre For Research And Innovation will have 30 iPads, 30 Kindles. All pupils are already provided with laptops.
Ms Lunnon said the college would keep 10,000 books and that the rest would either be thrown out or redistributed among departmental libraries.
"It's about keeping your house in order and every now and then you need to do a clear-out," said Ms Lunnon.
The new centre is scheduled to open in January 2012.